---
Hood Badge, Rocker
and Hockey Sticks
for 2010-2011 Mustang.
---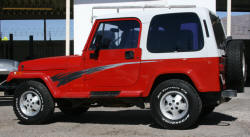 NOW AVAILABLE
JEEP WRANGLER SPLASH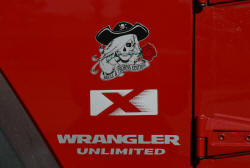 Check out the new
Pirate Series Girl
Skull & Thorns Edition
---
40th Anniversary Edition decal for 1997 Land Cruiser
Only $68 per pair! Available in Black and Silver Metallic
---
IFS / IFS CORE /BFE Decals. Only $6 including Shipping.
Independent Front Suspension & Solid Axle Swap Club decals. Only $6 including shipping.
YOTATECH.com Adventure decals. 5 Color Print. Only $8 including shipping.
YOTATECH.com Windshield/Window decals.
---
Nissan stripes that are now available.
---

GMC Sonoma Stripe kit Available!
---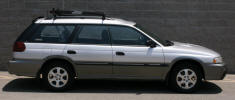 Now Available
Subaru Outback 2-Tone stripe kit.
By the side, front fenders or complete kit.
---

Now Available Ranger Splash Graphics
---
Company Profile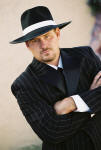 I've been in the auto industry since the early to mid 80's. I started off my journey in the auto body and customizing at Bo's Vans and Vets, where I customized vans and restored mid year 60's corvettes. In the late 80's I moved on toAuto Trim Design and Sign of Tucson, where I've honed my custom striping and painting skills. Specializing in emblem gold plating and custom printed lettering and graphics. We are one of the only aftermarket reproducers & suppliers of discontinued factory (oem) stripes, such as Toyota and Ford. As far back as 1984 we've stretched to reproduce Toyota Factory oem stripes, decals, logos and stickers that have now become discontinued or unavailable. Now branching out to other decals, logos and stripes for Ford, GM, Chevy, Mopar, Jeep, Nissan and others, we can help return your vehicle to its original state or add something new. We are also reproducing some discontinued bike decals and logos.
My love of custom paint and graphics turned my attention towards another form of mobile artwork, of the two wheel nature, from Customs to Harley-Davidsons to Metric Cruisers. I have had the pleasure of working on and painting several award winning projects. Using the latest techniques and technologies, custom paint work has jumped to new levels. Tri-stage candies and pearls, as well as the new color changing paints (Chromalusion & Extreme), make for endless combinations, to make your ride one of a kind. Only high quality paints, such as DuPont, House of Kolor and Sherwin-Williams are used to guarantee a great looking, long lasting paint job. DuPont and House of Kolor paints supplied and backed by Finishmaster on Stone Ave. SW paints are supplied and backed by Sherwin-Williams on Roger between Fairview and Oracle.
In the mid part of 03, I turned my creative nature towards custom bike building as well. Having done body work and metal fabrication for years, it only made sense to build what I've been painting. Also having access to CNC machines allows me to make custom billet parts for my bikes, as well as for others looking for a different look or design. Billet coil, motor mount, inspection and derby covers are available in both polished or chromed, with others parts on the way.
---
Site Information
Check out the Paint Samples page for examples of custom paint jobs done of autos and bikes, or current jobs in the works. Followed by a Paint Prices guide to help determine what your artwork might run. Decals & Logos page shows some of the logos that have been used over the years as well as a Discontinued OEM Toyota Factory Stripe & tailgate logo section. We are also starting to carry some of the Ford 2-Tone paint break stripes, Lariat stripes and Stripes that fit the Harley Davidson models.
Check my latest project. Follow the transformation of my 93 4Runner from worn out stock, to street and trail ready upgrades and modifications. Everything from washer pumps repair tips, new suspension (OME 901 Coil Springs, HD Torsion Bars, SD Control Arm Spacers and longer Rancho HD shocks), Air Lift coil bags, Viair compressor, Firestone tank and level controller, Hi-Lift jack, Warn Premium Manual Hub Swap, body work and new paint . This should create a bold, eye catching canvas for myreplacement factory/oem stripes.
Also JDC custom line of Heavy Duty Safari Basket Roof Rack, JDC Front Bumper Valance with 2" receiver, HD Wench Cradle, Lower Link Extension for corrected pinion angle andPanhard Bar Drop Bracket for 2nd Generation 4Runners.
Please send in pics of you and your Ride/Bike and/or pics of your Rig/Truck with a brief description to be posted for the Ride and Rig of the Month.
Keep a lookout for upcoming apparel on theJDC T Shirts & Do Rags Page.
Check out upcoming Rides & Events (Including our annual crawfish boil and bike washes. Send info on upcoming rides to be posted.)
Articles & Feedback page post articles and customer feedback for references. The Fallen Riders page is to post friends and family info of those who have ridden on.
This page has some Jokes that will add laughter to your day. If you have any good ones send them to me.
Contact Information
Telephone

520-444-5863

If you have any questions please call, if I don't answer please leave a message.
Fax 520-298-BIKE (2453)
Address

4355 S Santa Rita Ave. Tucson, AZ 85714

(Out of Auto Trim Design shop)

Email

James Dean: james@jamesdeancreations.com